The hoped-for late sunshine never came, nor did the autumn colours develop.
The continuing rain and winds just blasted the leaves straight off the trees!

During the month the ground became even wetter and we have set up the new wintering arrangements for the cattle; they feed outside on hard standing and have an undercover strawed lounging area. They much prefer to be out on grass but the fields turn to mud all too quickly.
Our small flock of ewes looked so fit that we decided to buy them a new ram! He is three quarters Hebridean and one quarter Manx Loughton; he fits in very well and has earned the not-so-Welsh name Bingo!
The hedges are rich with haws and flocks of passing birds are feasting on them and taking the fallen apples. The apple crop has been huge, so we have experimented with apple juice made for us by a local entrepreneur with all the right equipment. It should see us through the winter and have a very much smaller carbon footprint than orange juice! The next task is pruning the apple trees and windbreaks once all the leaves and fruit have gone.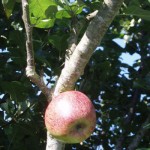 Now the clocks have changed, we can shut up the hens before 6.00p.m but let them out in daylight. The older hens and cockerel have gone to a new home in the North of the Island. We received an email asking us if we knew where chickens could be bought, and thought it best to give ours away! Its always good to make new contacts through the website.