It's on to August, and the cows are contentedly grazing 'high nature value' farmland in the Nant Ffrancon and awaiting the arrival of the bull.
Our oldest sheep – Cino – and three ewe lambs took a ride to an organic smallholding near Valley to do some conservation grazing there; it's owned by an ex-partner from the Farmers' Market days. The four older ewes 'had a rest' before the ram arrived; they will move to another organic farm later, but are still with us at the moment.
With most of the cows in the Nant Ffrancon, and the sheep in Valley, that leaves us with Babi and her calf Islwyn, and Rosi and the hens. Just enough to keep us vigilant and get us up in the morning!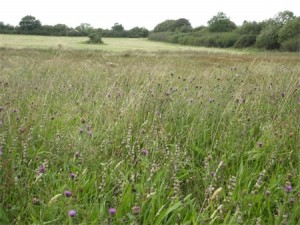 The nature conservation highlight of late summer was making hay on the third field at Ty'n Y Coed; an ambitious young farmer from the village took up the challenge! He got stuck several times in the middle rushy and boggy field bringing out big bales, but all is safely home. Now, the ponies have arrived. They're here to graze the middle field and will move into the rough later in the winter.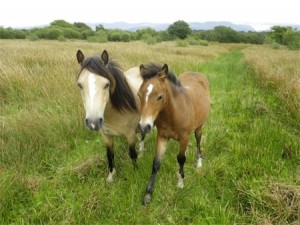 This year we have focused more on reducing our energy loss in the house than 'trying to be self sufficient in food'. We have tackled this by installing PV panels; these are generating lots of power — so the meter tells us!
The log shed used to store all the wood from our fallen beech trees is under construction, which is just as well; we still have our two log burners! We also have the potential to harvest enough timber from the farm to be 'self sufficient' and give up the coal habit!
On top of sorting the heat sources for the hours, we have commissioned 12 new double glazed box sash windows to reduce the heat losses. These have now been installed and should keep more of our precious heat in the house.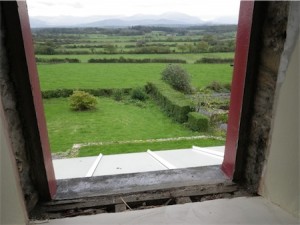 The post 2013 CAP reforms may well have implications for how we farm and what plans we make for the future but this winter we will be 'having an easier time' with less livestock.