New year, new life!
The winter checking and feeding routine was easier this year due to dry weather. The animals were kept under cover during the snowy weeks but all of them were desperate to go out and check for green grass.

The sheep were the first to go outside, but only after one 'first time' ewe had produced two black lambs.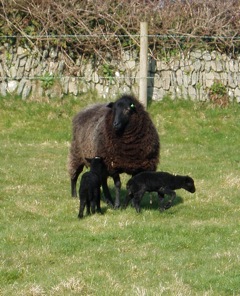 The cattle had to wait a bit longer until calving was over. One of the two three year old heifers gave birth easily, the other had to 'be helped' and found it hard to bond with the calf. We had decided to use semen from an Aberdeen Angus bull as this is supposed to make for easier calving…!
Our oldest cow, Babi had problems with her sluggish bull calf but eventually it was up on its feet. The last calf to arrive was a pure Welsh Black heifer.

In keeping with tradition, they have been named after the A,I,T and R in Waitrose – as in 'shopping trolley from Waitrose', so they are Arian (Silver in Welsh), Islwyn (after Islwyn Ffowc Elis), Telyn (Harp in Welsh) and Rhosyn (Rose)!


The last one will get a pedigree certificate and become Adda Rhosyn. All of them get their passports from the BCMS ( British Cattle Movement Service) and eartags to match!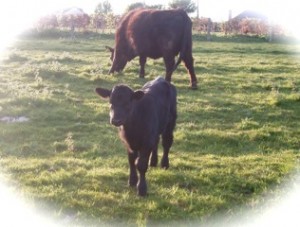 On the horticultural front, the vegetable garden has been re-shaped. We have replaced grass paths with slate ones, reduced the number of beds and put in two raised beds. The soil has been turned and home-made compost incorporated to restore fertility.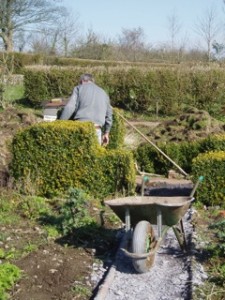 Now, we wait for warmer weather and some rain. We installed an electric fence to deter the rabbits, fingers crossed it'll work this year! The asparagus has started shooting in the poly-tunnel, and we had to clear the 'year round' forest of rocket in order to find it! Rhubarb sprouted under the empty beehives and fresh food can now be married with the frozen in the freezer.
Roll on spring!