The weather in this last quarter of 2009 has continued to break records, not in a good way. October gave us some very fine and mild days, the grass continued to grow and the cows spent the days outside grazing and the evenings inside getting used to a hay and silage diet. They had passed their TB test early in the month, which put the new cattle crush we had bought in August through its paces. The few TB reactors we have heard about in the area have been animals imported onto farms from elsewhere.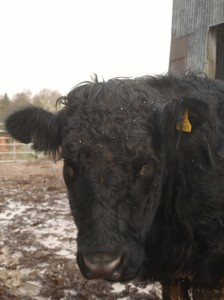 The first day of November started with torrential storms, and by the end of the month we had seen twice the average rainfall; all this 'weather', which included hail storms, quickly saturated the land. A leak in the retaining wall at the back of the cow shed made it hard to keep the cows' bedding dry; water poured down the farm track, eroding the surface, circumventing the drains and running under the barn foundations. Weighted down by the remains of the runner bean crop, part of the fence in the vegetable garden collapsed. Tiles slipped, water made its way into roof spaces and flooded the greenhouse, and mud proliferated.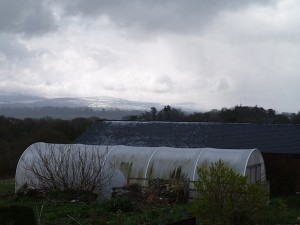 The rain set everything back, discouraging us from carrying out important tasks. A neighbour juiced the last of our apples for us, and our ram and two lambs went on their final trip, coming back in boxes. We had expected the ram to be too strong for us to eat and he was earmarked 'for the dog'. In fact his flavour, rather more like that of venison than lamb, was untainted, and a tribute to his Manx Loughton and Hebridean ancestry. The rabbits ignored the weather, becoming tamer by the day; they decided to construct a burrow amongst the red cabbages, which they gnawed to stumps. We had harvested most of these in time, and we netted the Brussels to save enough for Christmas Day.
Come Christmas Day, we had so many sprouts to go with the turkey (a local one, but not ours) that we had to fry them in butter with garlic the next day – a real treat! Patrick made sandwiches filled with what was left of his red cabbage casserole – chop finely,add onions, grated apple, cinnamon and nutmeg and juice and cook slowly. The whole family, it seems, is passionate about food. When you know where it comes from and how it is produced, you can't help being interested in the stuff!
The run up to the New Year has seen an increasing amount of snow, with crisp and fresh mornings. Hopefully the sign of a new and fresh start!