Our small flock of 18 Black Rock chickens has been laying well this month, despite shorter days. They have a nice house, with plenty of fresh shavings, feed and water but can't wait to get out into their orchard enclosure in the mornings. Sometimes – over the Christmas holidays – they have had to be a little patient!
The end of the month brought cold, dry, sunny weather, ideal for carrying the remaining silage bales from the far field to the farmyard. The downside was frozen pipes. There was plenty of holly with berries at Ty'n Coed to decorate the house for Christmas.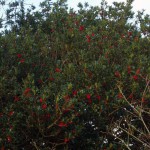 Luke, the bull, seems to have done his job and was returned to his owner at the end of the month. We have been feeding the cows a couple of large bales of silage each week, supplemented by hay, to warm them up! The calves have a daily scoop of organic nuts to keep them fit.
The sheep have also had a taste of organic feed, to bring them to the gate and keep them in good condition.
The end of the year is a good time to reflect on the farming cycle. Although our farming policy has changed, and each year is different from the last, there are also continuities from year to year – lambing, shearing, calving, hay & silage-making, sending away finished stock and so on. To avoid repeating ourselves, we have decided to post a seasonal diary of highlights in 2009, so the diary will appear quarterly, in March, June, September and December.
Happy New year to you all!