There are lots of routine jobs to do at this time of the year. The lengthening days also give us a chance to catch up on some maintenance jobs.
The chickens are providing us with enough eggs for our own needs, but are really way past their 'best before date' from a commercial perspective. The oldest hen – a Speckledy – who is eight or nine, lays an occasional dark egg but mostly spends time avoiding the cockerel's advances!
We have brought the three cows back from our fields at Ty'n y Coed. They decided to make the task of getting them into the trailer as difficult as possible, but as usual, patience triumphed in the end. We will soon have a better holding pen there, with gates which close behind the cows to move them into the trailer.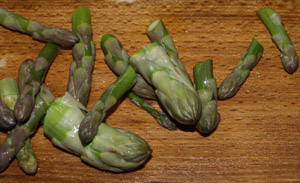 Seedlings of brassicas, lettuce and onions are coming up in the poly-tunnel, and the green shoots of garlic in five rows outside are a welcome sign of spring. We have started cutting asparagus spears; this may seem somewhat early but ours respond well to the warmth of the poly-tunnel. Outside, the early-forced shoots of rhubarb have been a treat at breakfast time.