Welcome to our farm website.
We have been farming for wildlife in Wales, managing sheep and pedigree Welsh Black cows, keeping chickens for egg production and growing horticultural crops like beetroot, onions and potatoes, for fifteen years. This site is about our experience of farming to produce good food and achieve high animal welfare standards in ways which benefit nature.
Where are we?
Tyddyn Adda is an organic livestock farm, with small horticultural and poultry enterprises. It is situated close to the Menai Strait on Anglesey and its small fields, surrounded by high hedges, face south and east. They look out over a mountainous panorama, which includes the Great Orme, Snowdon, and the Rivals on the Llyn Peninsular.

What is our aim?
We started farming in 1992. We wanted to farm with nature, produce high quality food naturally, achieve the best animal welfare standards and increase the biodiversity value of the farm.
What is our website for?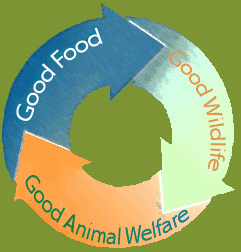 Our farm shows that a virtuous circle of good food, happy animals and flourishing wildlife is possible. We have set up this website to share our experience. We can offer practical advice on managing land for nature; in particular how to create or restore desperately scarce and threatened flower-rich hay meadows (see www.wildmeadows.org.uk).
We have organic pedigree Welsh Black cattle, ewes and lambs for sale to good homes.
As editor of the wildlife magazine Natur Cymru – The Nature of Wales (www.naturcymru.org.uk), I (James) am always on the look-out for articles about nature and the Welsh natural environment.